Iwona Falkiewicz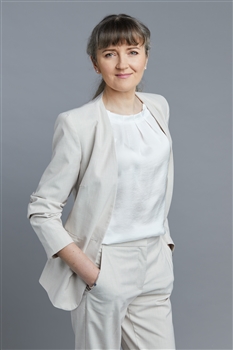 Jeśli szukasz rzetelnego i zaangażowanego w proces sprzedaży pośrednika, który zadba o komfort i bezpieczeństwo sprzedaży Twojej nieruchomości – to jestem do Twojej dyspozycji!
Rynek jest pełen ofert, dlatego tak ważny jest wybór osoby, która sporządzi unikalną, wyróżniającą się ofertę i poprowadzi proces tak aby zamknąć sprzedaż na korzystnych dla właściciela warunkach w oczekiwanym terminie.
Specjalizuję się w ścisłej współpracy z właścicielami:
sprawdzam dokumenty do transakcji na etapie przyjmowania nieruchomości do sprzedaży,
sporządzam ofertę podkreślającą najlepsze cechy nieruchomości i ze zdjęciami z profesjonalnej sesji zdjęciowej na koszt Maxon Nieruchomości,
profesjonalnie prezentuję nieruchomość i przekazuję informacje zwrotne po prezentacji,
na życzenie stron uczestniczę w procesie negocjacji ceny, warunków transakcji i zapisów umów, zamawiam i przesyłam stronom projekt aktu notarialnego,
przygotowuję protokoły na wydanie nieruchomości i przekazuję stronom listę czynności po akcie.
Pracuję głównie z polecenia, nieruchomości to moja pasja – nawiązuję trwałe relacje z klientami, Twój komfort i zadowolenie jest dla mnie bardzo istotne.
Pracuję w branży nieruchomości od 2007 roku, jestem licencjonowanym pośrednikiem w obrocie nieruchomości (lic nr 8954).
Zapraszam do kontaktu!
If you are looking for a broker who is reliable and involved in the sales process, who will make sure that the process of selling your property is comfortable and secure for you - please contact me!
There are a lot of offers on the market, that's why it is so important to choose a person who will make a unique offer of the property and take you through every stage of the process in order to close the transaction for the benefit of you.
I specialize in close cooperation with the owners. I have experience in working with foreigners, I get many recommendations. Real estate is my passion - I establish and maintain long lasting relationships with clients, your comfort and satisfaction is very important to me.
I have been working in the real estate since 2007, I am a licensed real estate agent (license number 8954).
I am looking forwards to working with you!
Iwona Falkiewicz
Ekspert ds. Nieruchomości
OSTATNIE TRANSAKCJE
| RODZAJ TRANSAKCJI | ADRES | POWIERZCHNIA | CENA TRANSAKCYJNA |
| --- | --- | --- | --- |
| Mieszkanie - Sprzedaż | Warszawa, Żoliborz, ul. Tylżycka | 66,51 m2 | 530 000,00 PLN |
| Mieszkanie - Sprzedaż | Warszawa, Ursynów, ul. Stryjeńskich | 98,27 m2 | 1 071 000,00 PLN |
| Mieszkanie - Sprzedaż | Warszawa, Mokotów, ul. Wynalazek | 33,95 m2 | 471 000,00 PLN |
| Mieszkanie - Sprzedaż | Warszawa, Praga-Południe, Saska Kępa, ul. Argentyńska | 45,28 m2 | 420 000,00 PLN |
| Dom - Sprzedaż | Warszawa, Mokotów, Sadyba, ul. Żegiestowska | 220,00 m2 | 1 230 000,00 PLN |
REFERENCJE (6)
Pani Iwona Falkiewicz jest licencjonowanym, doświadczonym, efektywnym i wyjątkowo sprawnym pośrednikiem w procesie sprzedaży nieruchomości. Pomogła mi sprzedać mieszkanie z problemem oraz zdalnie także wykonując dodatkowe czynności związane z sprzedażą ponad standardowe oczekiwania od pośrednika. Polecam Panią Iwonę Falkiewicz jako pośrednika sprzedaży nieruchomości.
2021-07-31
Ryszard, Toronto, Kanada
Iwona Falkiewicz is professional licenced and very effective Real Estate agent. This girl is above and beyond standard expectations at her profession. She helped me to sell apartment with problems, remotely in different time zone. She has very positive attitude always helpfull and professional with incredible knowledge and skills. I strongly recommed Iwona as Real Estate agent.
2021-07-31
Ryszard, Toronto, Canada
Pani Iwono, Dziękujemy: ja i Marcin za Pani zaangażowanie, sumienność i opiekę podczas zakupu lokalu przy ul. Okrąg. Jestem pod wrażeniem Pani kompetencji i wspaniałej organizacji. Dziękujemy również za to wszystko co robiła Pani dla nas ponad to co należy do Pani obowiązków: za wspólna wizytę w spółdzielni mieszkaniowej, za wyjaśnianie wszelkich spraw związanych pośrednio z zakupem oraz przemiłą atmosferę jaka nam w tym towarzyszyła, a Pani ją stworzyła. W swoim dość długim życiu miałam trochę kontaktów z agentami nieruchomości, byli kompetentni, ale nie spotkałam nikogo kto wyróżniał się takim zaangażowaniem i wiedzą!
2020-06-22
Elżbieta
MIeszkanie 57 m2 , Powiśle
TO WHOM IT MAY CONCERN LETTER OF RECOMMENDATION for Mrs Iwona FALKIEWICZ – Maxon Nieruchomości We have been working with Mrs Iwona Falkiewicz for almost a year now. Our objective is to sell our apartment in Warsaw – Wilanow since we moved to France several months ago. Not being present at site, it was very important for us to cooperate with a reliable person and agency so that all processes of presentation and sale go smoothly. After a few months of cooperation, we decided to sing an exclusivity agreement to fully delegate all actions connected with sale of our apartment. Mrs Iwona Falkiewicz has been very engaged and active. Our apartment has been promoted very well and was shown to numerous potential clients. We received several offers from potential clients, but thanks to Mrs Falkiewicz we could choose the best one for us. At the moment, we are expecting to conclude the transaction successfully with a family who is currently arranging a loan agreement with banks. Therefore, we strongly recommend Mrs Iwona Falkiewicz as an intermediary in real estate transactions.
2015-05-15
Agnieszka
Sprzedaż , Wilanów, 97,25 m2
It is our pleasure to recommend MAXON and Mrs Iwone Falkiewicz as an agent. We live in Dublin and sold our property in Warsaw last year. Mrs Iwona looked after for us the whole process of sale. We were delighted with the service we received. She is very professional and knowledgeable, extremely patient and above all honest. She gave regular updates at all times including weekends, chased up loose ends, answered questions from all parties and kept us informed of which stage we were at every step of the way. She frequently provided sound advice using her vast experience as the agent. We couldn't have asked for a better service.
2014-07-15
Celina & Emilian
Sprzedaż, Mokotów, 34,7 m2
To whom it may concern It's our pleasure to recommend Mrs. Iwona Falkiewicz as real estate agent perfect for Your home sales. We've asked Mrs. Iwona Falkiewicz to undertake the sale of our Warsaw apartment in March 2013. It was quite challenging as we are living in Singapore and we couldn't fly to Poland frequently. Our friends in Poland recommended Mrs. Iwona services and it was perfect choice. We've established the e-mail contact and signed off the agreement. All our contacts were done through e-mail, phone and post. Mrs. Iwona was giving us constant feedback on the sales status, sending us updates before and after every visit of potential buyers. Mrs. Falkiewicz also help us to prepare the apartment before sales, rearranging the interior and prepared professional photos. Every potential buyers visit was followed by e-mail update with questions, potential buyers' impressions and assessment of transaction probability. Mrs. Falkiewicz help us to collect on our behalf all documents required for transaction from bank, mortgage registry, building management, etc. She help us to organize all notary procedures, which allowed us to perform the sales transaction base on our father's power of attorney - so we didn't even have to fly to Poland to complete it. The contract negotiations went well, we were happy, buyer was happy, "win-win" situation. Mrs Iwona services were always professional, she was sending us regular updates and was always able to answer all our questions. We are pleased to recommend Iwona Falkiewicz to anyone looking to sell a home or apartment.
2013-10-15
Anna i Rafał from Singapore
Sprzedaż, Bemowo, 64,6 m2
MOJE OFERTY (3)
JAK MOGĘ CI POMÓC